Winmate launches the M133WK Ultra Rugged Tablet - a powerful 13.3-inch tablet designed for operations in the harshest environments. The tablet features a brilliant panel with 500 nits' brightness, anti-glare technology and optical bonding, and supports touch even when used with gloves. Powered by Intel's Core™ i5-8265U 1.60 GHz (up to 3.90 GHz) processor, the M133WK offers rich connectivity options, as well as a built-in kickstand handle that allows for variable positioning on any surface. The housing made of magnesium alloy die-casting with all-around elastomeric rubber and waterproof I/O cover is protected against water, shock and drops. The M133WK meets MIL-STD-810G military durability standards in addition to IP65 water and dust resistance, meaning it can go anywhere with your mobile workforce without any fear of it getting damaged.
High-Performance Computing – The M133WK rugged tablet features Intel® Core™ i5-8265U 1.60 GHz (up to 3.90 GHz) processor with a fanless thermal design that boasts up to 1 TB to deliver an amazing level of CPU performance. You can now run all your high performance applications with a Windows 10 IoT Enterprise operating system.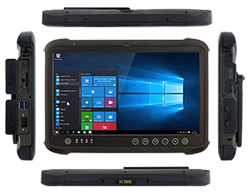 Ultra-Rugged Tablet Survives Extreme Environments – Being an industrial-grade solution for the harshest work environments, the M133WK Ultra Rugged Tablet is full IP65 rated for protection against dust, dirt, and water ingress. The tablet has passed the MIL-STD-810G testing for shock, vibration and accidental drops from 4 ft onto concrete.
Convenient User Controls – To maximize the readability and efficiency of professional mobile field workers, the M133WK Ultra Rugged Tablet features a large 13.3" 1920 x 1080 IPS widescreen LED panel with a user-friendly touch experience that's enhanced by its PCAP multi-touch solution. Plus, the tablet offers excellent readability in humid outdoor environments with its optical bonding and anti-glare technology.
Ergonomic Design Kickstand Handle – With an impressively wide screen, the M133WK rugged tablet is also surprisingly handy and easy to use because of its easy-to-carry, fold-up kickstand handle. Your workers can now easily move the device or set it up to view instructions on the tablet while simultaneously executing their tasks.

Wireless Connectivity for Communication – Equipped with WLAN WLAN and BT by default, the M133WK offers field workers ultimate productivity, access to important information, and real-time communications. Now field workers can independently perform process procedures and initiate or execute work orders while in the process area. Add an optional GPS/ GLONASS and 4G LTE to the M133WK rugged tablet for even more real-time connectivity.
All-day Productivity – Stay efficient during all-day shifts with the M133WK Ultra Rugged Tablet. The tablet's long battery life lasts more than 10 hours (tested with BAPCo TabletMark v3), meaning workers now have a portable solution that can be used for a full day's work.

The new M133WK Ultra Rugged Tablet is now available for order. Please contact Winmate's sales at www.winmate.com/inquiry for more details on pricing and availability.