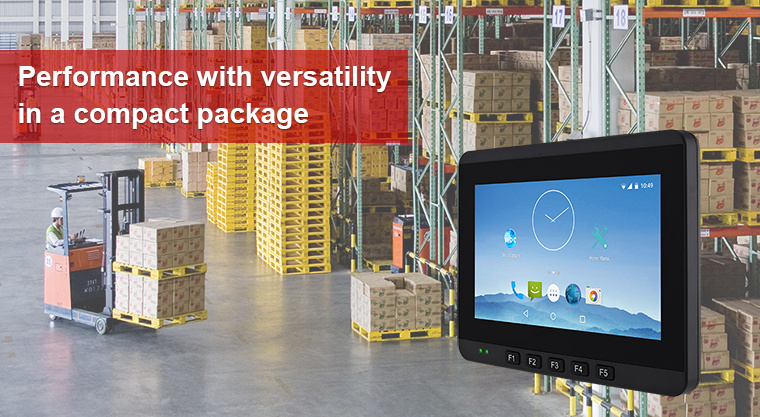 Winmate updates 7-inch vehicle mounted computer options with Android arm-based FM07A

Performance with versatility in a compact package
Winmate has expanded its vehicle mounted computer offerings with the addition of a 7-inch Android arm-based option – the FM07A. With the growing trend of more Android-based industrial computing, the FM07A provides the greatest benefit for those that base their warehouse management on Android operating system to integrate a VMC more easily. From inventory management to order fulfillment, asset tracking, and shipping and receiving, the warehouse floor is a complex ecosystem that requires high-efficiency technology to keep it running smoothly. The FM07A VMC is built to fit seamlessly into forklifts and other warehouse vehicles while enduring the rigors of the warehouse.

This Android-based vehicle mounted computer features the low power consuming Freescale i.MX 6 Dual Core 1 GHz processor and the P-Cap touch screen for a user-friendly multi-touch experience. Thanks to its compact 7-inch form factor, vehicle operators are allowed to maintain unobstructed line-of-sight during operations so as to increase eff­iciencies and minimize errors.

The ruggedness is proven with the MIL-STD-810G certification, IP65 rated water and dust proof enclosure, and wide operating temperature range (-20~ 60°C). The addition of the wide input voltage range (9-24V DC) allows for easy device compatibility with a multitude of vehicles and power ignition controls to control when the vehicle mounted computer turns on/off when the vehicle is started. Communication options include Wi-Fi, BT, WLAN and GPS to enable records to be updated in real time and ensure that the most up-to-date information is always available. The FM07A is a rugged vehicle mounted computer that suits a variety of industrial applications, from warehouse management, transportation logistics, to airport ground handling operations.

For more details and questions about Winmate's FM07A Rugged Vehicle Mounted Computer please contact us at www.winmate.com/inquiry.
Product Features:

Freescale i.MX 6 Dual Core 1 GHz Processor
7" 1024 x 600 panel with projected capacitive multi-touch screen
Android operating system
Wide power input 9-24V DC with ignition
IP65 waterproof and dustproof
Wi-Fi, BT, WLAN and GPS for wireless connectivity
Wide operating temperature range -20°C ~ 60°C
MIL-STD-810G Shock and vibration resistant
E-Mark certified
Copyright 1996-

2022

Winmate Inc. All Rights Reserved.