Fighting COVID-19 with Winmate M101P-ME Healthcare Tablet
Portable healthcare grade tablet computer plays a part combating COVID-19 and beyond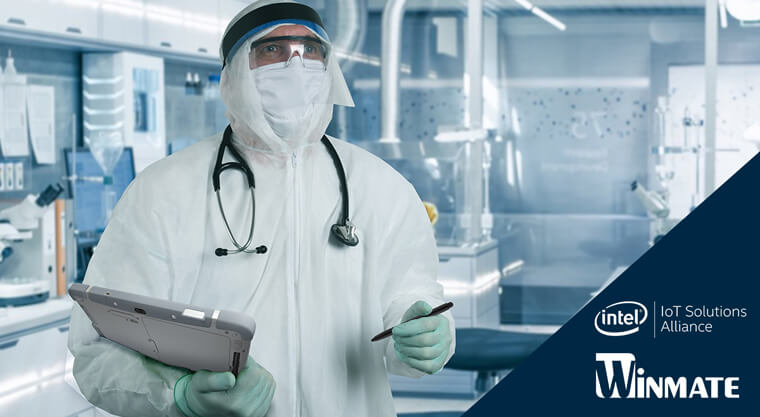 The recent outbreak of coronavirus COVID-19 shows that not all the healthcare facilities are ready for such a massive pandemic. In the beginning of pandemic healthcare systems all over the world were overwhelmed. Not only healthcare personnel, but also technical facilities were not ready. Healthcare grade tablet computers are proving to be an effective communication and data collection tool for those combating COVID-19 on the front line. The rugged application-focused healthcare grade tablet computers offer a new generation of convenience for healthcare professionals, help to collect and transfer data, check the diagnosis and update patient information in real time.
Patient Care

Portable computers designed for patient care have to be tough and rugged to withstand excessive cleaning and often drops. With portable tablet computers nurses can easily access patient information any time from any place. With wireless functions nurses can also contact doctor for advice, record and share patient information in real time. This improves efficiency and saves time for regular checkups.
Telehealth

Telehealth or telemedicine is the distribution of health-related services and information via electronic information and telecommunication technologies directly to your patients. Rugged tablet computers for telehealth have a wide array of I/Os and often have expansion areas, where peripherals can be incorporated into the device, and also feature wireless connectivity and a webcam for virtual visits and checkups.
Emergency Services

Emergency ambulance services are always on duty. Devices in ambulance serve for patient monitoring and reporting, or route navigation. Usually tablets switch between vehicle and field work, and require vehicle docking stations to allow devices to be powered from the vehicle, provide additional interfaces and just as a convenient mounting solution inside the moving vehicle.
5 Benefits of M101P-ME
in Hospital Environment
1

Healthcare certification - The M101P-ME is certified for healthcare applications IEC/ EN 60601-1, 60601-1-2 meaning that the device performs safely and effectively without causing harm or electromagnetic disturbances in Healthcare environment.

2

| | | |
| --- | --- | --- |
| Antibacterial housing - The housing of the M101P-ME healthcare tablet is enhanced with antibacterial properties to minimize bacteria growth, and be resistant to a variety of cleaning chemicals with waterproof design that allows cleaning the surface with wipes, sprays and liquids without a concern of affecting the internal components. | | |

3

Anti-glare solution and optical bonding - An anti-glare solution on the glass of the M101P-ME healthcare tablet helps to diffuse the glaring light, reducing its intensity and making it easier for the observer to see the correct image and provide perfect readability at extreme viewing angle; the screen also comes with optical bonding technology to offer higher brightness, better clarity and resistance to scratches.

4

Ruggedness - A lightweight yet durable waterproof, shockproof and dustproof the M101P-ME healthcare tablet installed on a healthcare cart or inside an ambulance vehicle with its optional tailored-made accessory – vehicle docking station - withstands strong vibration from the moving vehicle with no parts disconnected or loose.

5

Optional integrated 1D/2D barcode scanner - Integrated barcode scanners allow clinicians to track inventory or pull up patient charts with the quick click of a button or verify patients with a barcode on their wristband. Versatile all-in-one wireless communications and data capture tool designed for hospital and clinical environment.
Contact Winmate

For more info on these products, please contact us at www.winmate.com/inquiry.

Forward to a Colleague!

Feel free to share the news with your colleagues, customers, partners and friends.
About Winmate
Winmate Inc. is a rugged computing and embedded solutions provider for industries operating in some of the most challenging environments. Founded in 1996 in Taipei, Taiwan where its headquarters, research and development facility, and production lines are located, today the company has offices and service centers worldwide. Winmate develops rugged industrial-grade computing solutions that advance the Industrial Internet-of-Things (IoT). Industrial display and panel PC, HMI, embedded systems, IoT gateways to rugged tablets and handheld devices for industries ranging from transportation and logistics to marine and military, railway, oil and gas, smart grid, healthcare, and field services. Winmate also provides professional services in customizing products and project management create a unique solution for specific customer's needs.

For more information, visit www.winmate.com or www.winmate-rugged.com (for North America area).
Copyright 1996-

2022

Winmate Inc. All Rights Reserved.